About Relish Burger Bistro
Started in Arizona by Starwood Hotels & Resorts in 2012, Relish Burger Bistro made its way to Seattle in 2013. Located 1900 Fifth Avenue in Seattle, the restaurant and bar offer re-invented American cuisine in an upbeat and exciting atmosphere. Relish Burger Bistro prides itself on handcrafted food and beverages, made with fresh ingredients and gourmet flavors. With 6 flat screen TVs, 21 beers on tap and a great location, Relish Burger Bistro is a neighborhood place for a quick and casual lunch or dinner. Bring your friends to watch the next game, or stop by after work for happy hour.
Hours
Open daily from 6:30 a.m. to 11 p.m. for Breakfast, Lunch and Dinner with Happy Hour offered daily from 3 to 6 p.m.
Parking
Validated 3 hour parking is available to diners through The Westin Seattle.
Executive Chef Jason Tate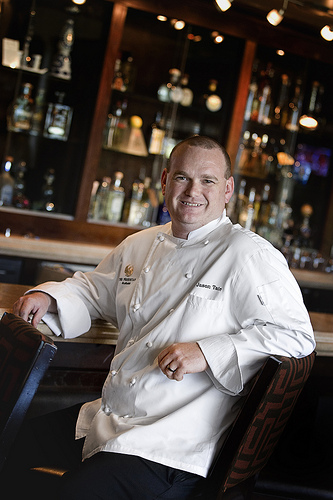 Chef Jason Tate was born in Phoenix, Arizona and developed a passion for cooking at an early age. His grandparents' flair for Eastern European home cooking inspired him to pursue his passion as a career.  In 1997 he took his first cooking job in a boutique mountain lodge in the remote San Juan Mountains of southwestern Colorado and eventually opened his own restaurant in Lake City Colorado. After the birth of his daughter he returned to Arizona to get a formal culinary education at the Scottsdale Culinary Institute in 2002, while assisting in opening the Westin Kierland Resort and Spa. During his time at the Westin Kierland he had the opportunity to work as a chef in Nellie Cashmans, Brittle Bush, and Deseo, eventually opening the Westin Kierland Villas in 2004. He then worked for a short time at JW Marriot Desert Ridge at the Blue Sage Kitchen, a modern southwestern concept.
Tate returned to Starwood in 2009 at The Phoenician as the opening Chef of the Relish Burger Bistro, winning Best Burger of the Year in Phoenix Magazine in 2010.  In 2013 he continued his culinary journey and relocated to The Westin Seattle to take over as the Chef de Cuisine at Relish Seattle.  His passion for cooking is only rivaled by spending time with his family and his love of the outdoors.